Running from June 10th, 2022 through August 6, 2023, I had the honor of being included in a curated show at the Cooper Hewitt Smithsonian Design Museum in New York City. 

The show was called "Designing Peace" and was all about socially conscious and human rights focused design, amplifying a diverse set of voices, cultures and artistic mediums. I had two posters included from a larger collaborative project illustrating the Universal Declaration of Human Rights.

The posters had to give simple but impactful, evergreen messaging that could be translated into different languages, and speak to different cultures. I originally designed these posters for a sponsored class though the Design Matters program at Art Center College of Design.
The show and accompanying catalog was put together by Cynthia E Smith, the museum's curator of socially responsible design. A central question asked for the exhibition was "How can design address the root causes of conflict?", and the show brings together fine art, industrial design, graphic design and interactive pieces.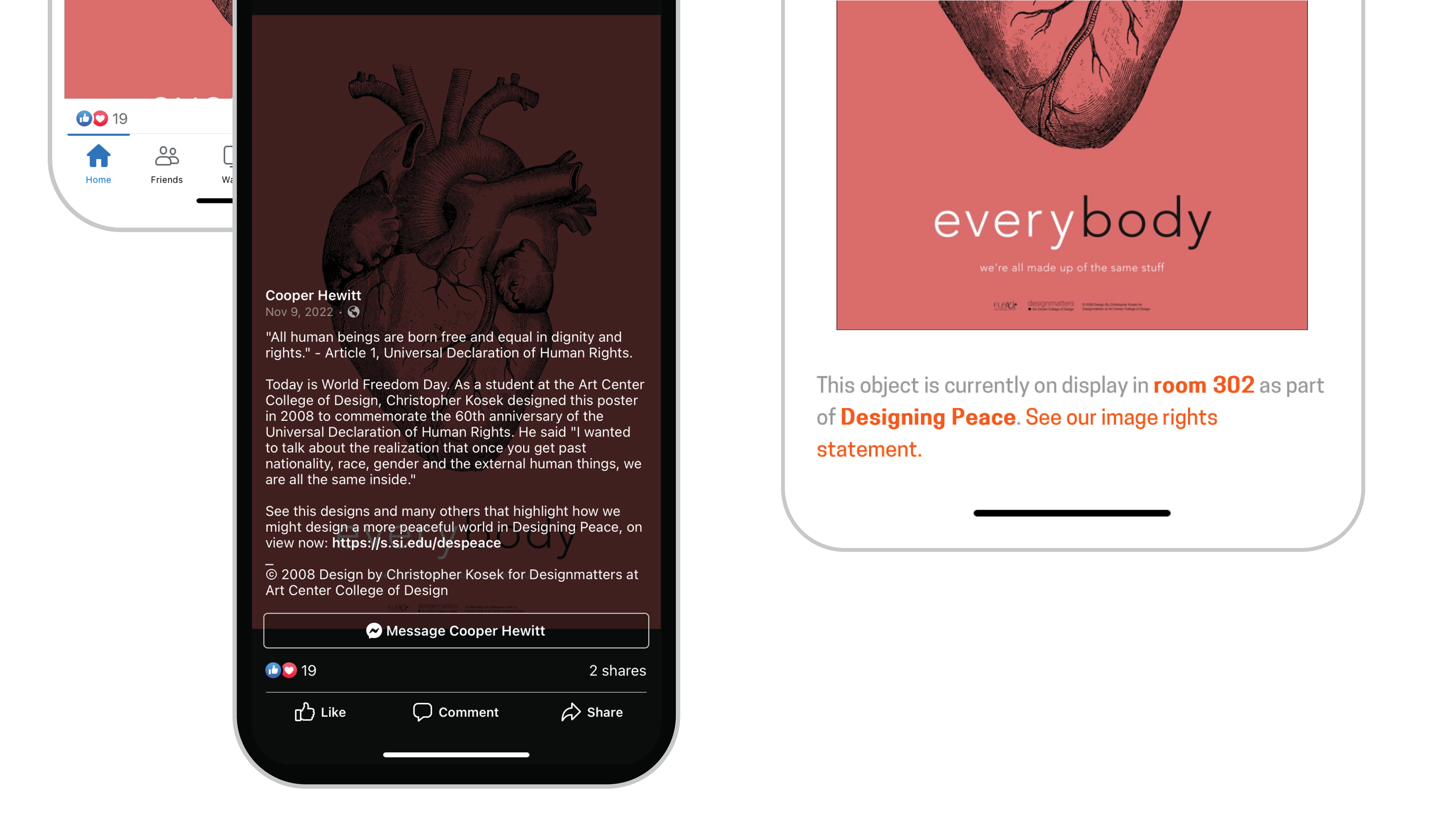 My work was also used in advertising and social media promotion for the show. 
Screenshots of my work in the virtual online exhibition. 
An accompanying printed catalog was Written by Cynthia E Smith and published by The Cooper Hewitt. Publication design by the Practise Design Studio. 
I'm amazed that all these years later, one of my projects can still have lasting impact and speak to larger issues that persist in our world.

We stopped by today, saw the show, met the curator…And it's way cool that I can say I'm in the collection of the Smithsonian and I've exhibited alongside Shepard Fairy (of Obey fame), one of my favorite artists and designers.

This is also a bit of a full circle moment for me. Growing up in the DC area, the Smithsonian was an important part of life; from school field trips to later on as an teen in my high school's AP Art program, I may have skipped school a few times to go down to the city and check out a museum show at the Hirshorn or National Gallery, seeing incredible art and design that inspired my career path. Never in a million years did I ever think I could be a small part of all that.

The best part though, was when we were in the gallery and my son walked over, gave me a big hug and said that he was proud of me. Thanks, little buddy. 

•2008 UN DPI/NGO Conference: Reaffirming Human Rights: the Universal Declaration at 60, UNESCO headquarters, Paris, France
•2008 Pasadena Central Library, Pasadena, CA
•2011 Added to the permanent collection at the Holocaust Memorial Center, Farmington, MI

•2022-2023 Designing Peace exhibition, Cooper Hewitt Smithsonian Design Museum, New York, NY